We are now offering rentals of the Covered Wagon Ranch's Taylorfork Lodge or one of the historic log cabins this off season
Both daily and weekly rates are available.
Cabin Rental includes-$300 per night/ $1,800 for a week. This does not include use of a kitchen but does include use of our corrals and barn. We have two-bedroom cabins that accommodate 3-4 people. We have 4 of these available.
Lodge- includes all access to stocked commercial kitchen, large living/dining room, library, two doubles beds and 1 twin bed. This is the perfect setup for the husbands to go hunt and the wives to hang back and enjoy sitting by the fire in the lodge or soaking in the hot tub.  $3,000 per week with corral and barn use.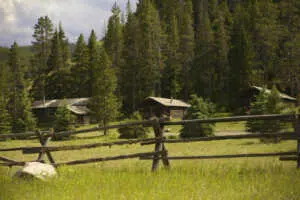 Rent the Cabins and the lodge! If you have a group and would like to rent both the cabins and the lodge, we can do that too!
To Book Call Kurt or Melissa @ 406-995-4237