and Covered Wagon Ranch, a Montana Dude Ranch
Four generations ago, each guest arrived here at Covered Wagon Ranch by way of stagecoach, and Model-T. Today, descendants of some of those families still come to our Montana dude ranch to experience the mythic beauty of the Old West, in a region that is very nearly the same as it was in 1925 when the guest ranch first opened.
Covered Wagon Ranch is one of the oldest continuously operating ranches in this scenic canyon where the Gallatin River and Taylor Fork Creek meet. The ranch is just three miles from the northwest corner of Yellowstone National Park.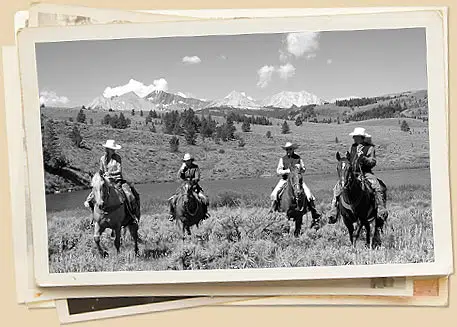 Saddle Up!
There's no substitute for the feeling you get when you head into the mountains on horseback. You'll be guided by experienced wranglers who know the area and horses well. The horses will take good care of you, too. Kurt and Melissa pride themselves in their horses and training. They have either raised and/or bought all the horses in the string and really know their horses. From brand new beginner riders to experienced hands, they have a horse for you for the week. Join us at Covered Wagon Ranch for scenic and safe Montana horseback riding.