Hello CWR FAMILY! Wow, its hard to believe 6 months have come and gone since we closed the ranch. Kurt and I are delighted for the opportunity to welcome you to or back to the ranch for another great season! The Covered Wagon Ranch is a small ranch with a big personality! We are beyond pumped about the crew 'line up' this year! You will find a lot of familiar faces…one that will surprise you all (you have to read through)! Okay enough said let me introduce you to everyone including us!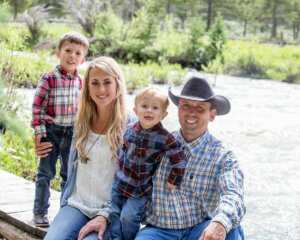 Kurt and I own and operate the Covered Wagon Ranch. We are not absentee owners and take pride in working with our crew. Kurt was born and raised in north Georgia on his family's farm. When Atlanta started to get too busy for his liking, he loaded two horses and headed west and landed at the Covered Wagon Ranch. Kurt has done every job on the ranch in the last 22 years (minus three years he was gone) and there is not anyone that loves the ranch more than him. You can find him first thing in the morning enjoying the fire and cup a coffee or in the evening with an IPA or bourbon on the rocks! He is filled with love and compassion for the outdoors, animals, Montana and our family. His favorite pass time is on the back of a horse but now days if you can get him out on a trail you have something on him as he says, 'he is retired.' In the off season he still enjoys helping neighboring ranches cowboying and loves to make a nice horse…. although he doesn't ride much of anyone but Miranda these days! He is easy to talk to and by the end of the visit you will feel like you have known him your whole life.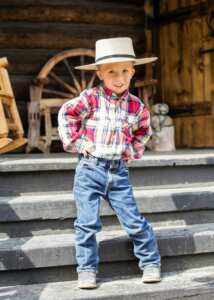 Braxton is our oldest son (6 years old) and although he has had lots of obstacles in his short life there is not anyone more positive and happier in the world. He absolutely loves riding his horses, Two Ton and Harvey and just picked up roping-although he ropes Two Ton more than the steer. He is super adventurous and rides both his Motorcycle (Honda 50) and his 4-wheeler (Honda-90). He enjoys shooting gophers with his Papa T and lives to be outside. He is a known visitor of the campfire after supper and you will ALWAYS find him with chocolate and smores.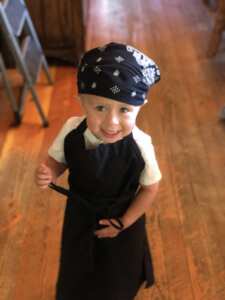 Sawyer is our youngest (3) and he has a big personality, a big imagination, a big storyteller and likes to turn everything into a song. Let's just say he is a very expressive 3-year-old. We tend to call him his nickname 'Halvie' short for Halverson and last night he informed me "I go by Halvie, not Sawyer, just Halvie" He will make you laugh and your mouth drop with what he has to say. He is not into horses (yet) but is highly creative with the things he does. He has never met a stranger and be sure of it, he will take you on some kind of adventure!
And lastly there is me. I was born and raised in Montana and attended college here. I received my degree in Education but until lately the only person I was teaching was Kurt and his progress was limited! I grew up with ranching families in the mountains. I have a big passion for horses and am constantly challenging myself to do something else with them. I love to work cows, rope, barrel race and enjoy breeding and raising performance and ranch horses. We have two foals and two more due in the next month, babies are definitely my favorite! I am a certified Equine Sports Massage Therapist and love to make my four-legged friends feel as good as I do after a massage! Anything I can do on or with a horse makes my heart happy and keeps me sane. I love the Covered Wagon Ranch and the family you gain here. There is something extra special about this place.
AND THE PEOPLE THAT HELP TO MAKE IT GO AROUND!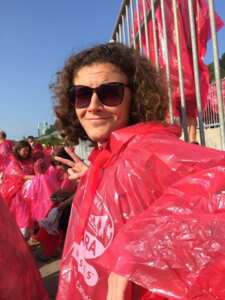 Hello my name is Hannah and I'll be the Administrative Assistant this summer! I was born in Oregon's Willamette Valley. Within a month of my birth, my family moved to Ruskin, Florida where I spent the next sixteen years. My family moved again in 2006 to northern Alabama, where I completed high school and obtained a Bachelor's degree from the University of Montevallo. For many years thereafter I moved frequently about the southeastern United States, but I always dreamed of moving back out West. One day my sister got tired of listening to my pining and submitted an application for me to a little ranch in Montana. I have spent the three summers since at the Covered Wagon with my cat and sometimes-nemesis Alice. I keep Melissa in check and run the office while she is running around like a chicken with her head chopped off. I enjoy hiking and love to ride my favorite four legged friend Blaze any chance I can! During the winter months I engage in other occupations.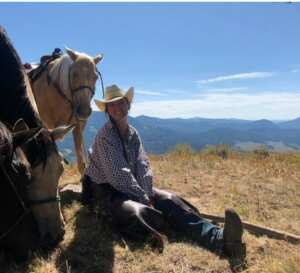 Hi, I am Sarah and I will be helping Kurt and Melissa run the barn this summer. This will be my 4th summer working at a dude ranch and my 2nd summer at the Covered Wagon. I am a transplant from New York, but I think the mountains make a better workplace than a building, so y'all are stuck with me! When I am not riding, you can catch me either hiking or skiing and just exploring. I am so excited for this season and to get to ride with new and old friends!
Saddle up Buttercup & get ready for a ride! Lucky for you fine folk this ain't my first rodeo, I'm on round two here at the Covered Wagon and can't wait to meet y'all this summer. On the ranch you can find me in my big flatbrim hat (which Kurt makes fun of), on a yellow horse (Kurt also makes fun of) or you won't find me cause sometimes I have a habit of getting lost…… ohh well. I love a good wild adventure hence why this Masshole moved 2000miles away from home into grizzly bear territory. However, I am somewhat educated with a degree in Veterinary Science and am working towards my certification in Large Animal/Equine surgery. So you see not just another pretty face 🙂 but if you think ice cream and donuts are main course meals, we should be friends.
Until Warmer days under that Big Sky, ❤️ Amy G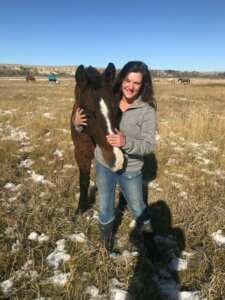 Hi guys! My name is Shelby Miller and I'm from Kuna Idaho. This is my second year at the Covered Wagon Ranch and I'm so excited to be back. Horses are my passion in life, I grew up spending a lot of time in the mountains, showing horses, rodeoing and going to barrel races. I'm always trying to learn a little more and get a little better for my horses! I'm looking forward to meeting new people, seeing returning friends, and spending my season in some of the most beautiful country on earth.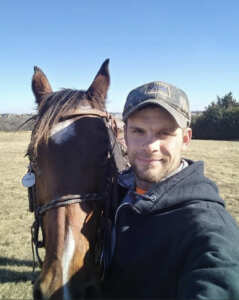 Hi my name is Dan and I will be one of your wranglers this summer. I am one of 8 kids and was born in Wyoming and then grew up in Oregon. I logged for most of my adult life and last summer was my first year at the ranch. I chose this ranch because of the fact that it was all about family and I love that. I fell in love with the Pucketts right away and they grew on me. They are the best bosses I have ever had in my life and that is because they do not act like bosses! This is my second year here and I cannot wait to meet all the new people and the regulars.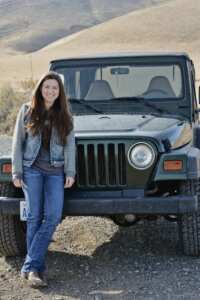 Hi, my name is Kirsten West. I am 21 years old and I am from Washington state. This will be my second year at the Covered Wagon Ranch. I will be this year's breakfast and lunch chef and I am super excited to be a part of the kitchen crew. I come from a large family and cooking has always been a big part of my life. So, I am excited to be able to do what I love. I am looking forward to meeting all the guests and spending time with new people.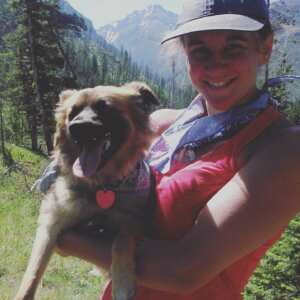 Hi my name's Jordan and I'm looking forward to another summer at Covered Wagon Ranch as your housekeeper! Originally from Missouri, I have been living in Montana and Wyoming on and off for the last ten years. I love the mountains and going on adventures with my dog Roo! I enjoy being outside skiing, kayaking, fly fishing, biking with my dog and just lying in a hammock. I grew up riding horses but really like to drive draft horses now and have been to a couple horse farming workshops. I have spent most of the last 10 years in guest hospitality working in National Parks and guest ranches. I worked for Kurt and Melissa in 2012 and so excited to come back this summer and meet the crew and all the guest!!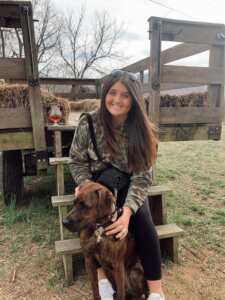 Hey y'all my name is Gianna Lanciani! I was born in Connecticut, raised in Virginia, and go to school in North Carolina…I am just making my way down south! I am a rising senior at East Carolina University where I am majoring in Elementary Education. I have been riding horses since I could walk and showing competitively up until going to college. Although I have been around horses my whole life, I'm new to the western world and very eager to learn! I am so excited to get to work with the kids this summer and combine my love for children and horses as the Kids Wrangler. My dog Bella, is a 2 year old Plott Hound mix and is the sweetest girl. She loves to go exploring with me and will give anybody and everybody tons of kisses. I am so excited to get the opportunity to work at the Covered Wagon Ranch this summer and meet everybody and make amazing memories!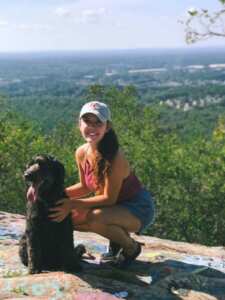 Hey y'all my name is Bella Lovett and I will be your prep-cook this summer. I was born and raised in Georgia and grew up riding horses. During high school my family moved to Iowa to get back to my mother's roots, and we sold our horses right before we left Georgia. After realizing just how much I missed being around these beautiful creatures, I figured what better place to go to than a ranch? I am currently in college, majoring in Veterinary Medicine and minoring in Sociology. Some of my favorite things to do include painting, cooking, working out, adventuring, and flow art! My family breeds European working-line German Shepherds and I have 9 dogs at home, plus the cutest Siamese kitty. I'm a big environmentalist, an extrovert, and sometimes too honest… sorry in advance?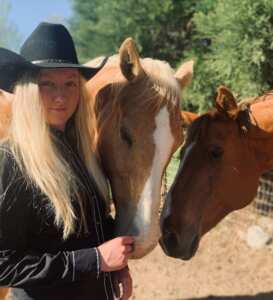 Hi there, my name is Amelia Porter. I was born and raised on a small farm in Southern Oregon and grew up riding horses and raising livestock. I am the youngest of four kids and the only horse crazy kid out of the bunch. Within the past four years, I moved away from home, went to college for two years and graduated with an Associate's Degree in Horticulture, and started a new job at a well-known veterinary clinic in the area. I enjoy spending my free time with my horses and dog, as well as barrel racing, roping, and trail riding. I am really looking forward to starting the next chapter of my life up in Montana and I am beyond excited to be a wrangler at the Covered Wagon Ranch! See y'all soon!
Hey, Y'all! My name is Alissa and I am from a small town in North Carolina. Inspired by many trips out west and a love for the outdoors, I am stoked to spend a season at the CWR! I grew up spending most of my days outdoors, and continue to love spending time doing anything outdoors, especially in the mountains! I love working with children, spending time with my family (there are twelve of us!), working with leather, learning new things, and meeting new people! I am looking forward to my time on the Covered Wagon Ranch and cannot wait to meet you!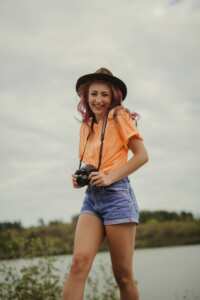 Hey everyone! I am Meghan, I like people, deep conversations, and the color of sunshine. I make the best jokes around, though I may or may not be the only one who ever laughs at them . . .I can usually be heard singing (rather loudly) or having a solo dance party. I have the attention span of a chicken nugget, but that is okay because everyone loves chicken nuggets, right? I was born and raised in Missouri, and dream of someday traveling the world, practicing my photography full time. I will be your Server/Dishwasher this summer.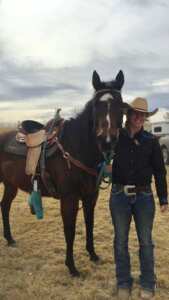 Hi! I am Lisa Costle, and I have the pleasure of being one of your wranglers at Covered Wagon Ranch this summer. I was born and raised in the heart of the Gallatin Valley an hour North of the ranch. From competing in barrel races on the weekend to roping in the arena, you will not find me very far from my horses Sugar, Sienna, and Fox. When I am not working, I enjoy spending my time outdoors in the mountains hiking, skiing, camping, or kayaking. I cannot wait to show you the big sky country I call home and cannot thank you enough for allowing me to share my lifestyle with you this summer!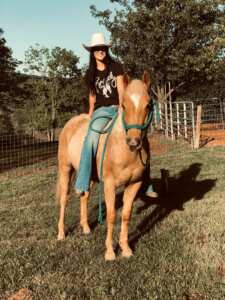 Hey ya'll, my name is Karah. I am 23 years old and from the good ole peach state, Georgia. This will be my first year working on a dude ranch. I am exhilarated for the opportunity to work at The Covered Wagon as a wrangler this summer. Horses have been a huge part of my life for the past 15 years and being able to meet new people, explore new places, all while being on the back of a good horse sounds like a dream come true. I cannot wait to meet ya'll this summer.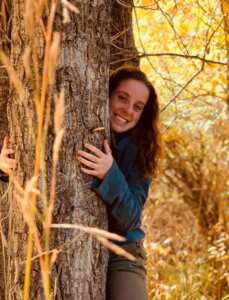 Hey y'all! My name is Elana, and this is my first summer at the Covered Wagon Ranch! I currently reside in the western suburbs of Illinois with my parents, twin brother, younger sister, and two dogs. During the school year, I pursue an education at the University of Colorado, where I hope to gain a degree in environmental science and business. I grew up spending most of my summers at a sleep-away camp in Wisconsin, where I learned many different outdoor skills. I am incredibly fond of hiking, biking, canoeing, and exploring. This summer, I am very excited to be a server and dishwasher on this ranch, and I look forward to meeting all of you!
And some how some way we talked this last one into returning to the ranch for his 5th summer! I know there will be a lot of surprised guests to see this one….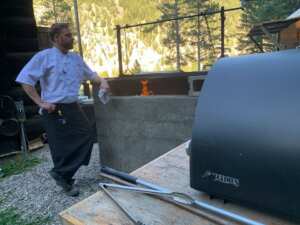 Hello my name is Roy, it is truly an honor to be coming back to the Covered Wagon Ranch for my 5th season. When Kurt asked me to come back, I pounced at the opportunity. I am truly dedicated to bringing positive growth to our culinary program. Last season I opened the Covered Wagon Ranch Cafe with help of our owners and amazing staff. The cafe is a fully functioning breakfast diner where we serve breakfast a la carte. I love our little breakfast cafe concept, it is so unique from what we were doing when I first came to the Ranch in 2016. This way we can cater to all types, and truly provide a luxury experience to our guests.
Last season we opened a new cookout concept on Monday night. This season we are going back to the old cookout at the Rec Hall with steaks, burgers, brats, hot dogs, and all the accompanying fixings on Friday nights. Monday's cookout will be a Wood-Fired beef roast and catch of the day, all cooked on our custom Argentine-Style Asador. We are calling it our Margarita Mondays Meet and Great. Surf and Turf with Melissa Puckett's hand-crafted Margaritas should really get your week off to a proper start.
In 2018 Kurt and Melissa bought me a wood oven and we have been doing pizza lunches with it. It was sad when some guests and staff would be out all day on the trail and miss out. So, I figured why not do it on Thursday nights when everyone is about to hit the rodeo in West Yellowstone, or live music in Big Sky. Artisan Wood-Fired Pizzas, Chicago Deep Dish Pizza, Sicilian Style Pizza, and an Italian inspired salad bar await you every Thursday night,
A Lot of people nowadays have dietary restrictions and food allergies. I tend to go a little out of the way for these individuals. I know how chefs are and want these guests to be blown away by their culinary experience here at the ranch. I love cooking for everyone from the vegan to the carnivore. It is an honor and a privilege to feed people life.
We hope you have the best spring and excited to see you all very soon!
Melissa