The wrangle here at Covered Wagon has long been one of our guests' favorites. Whether you have been coming here for 10 years or this is your first, I guarantee the wrangle is a sight you will never get tired of seeing – I know I never do.
What is the wrangle (all of you newbies yet to come ask)? The wrangle is when we move our entire herd of horses (72 head at last count) through the gorge and up Cameron Draw to our pasture on top of the mountain. We sit on 5,000 acres here, and we love to let our horses out to graze at night – so much so that we've started wrangling almost every day now!
Then, very (very) early in the morning, your wranglers will go back up the mountain on horseback and jingle them back in for your rides that day. The wrangle is generally later in the afternoon after everyone is back from their rides, and we are always more than happy to give you a ride down Taylor Ford road to a prime viewing spot for photographs and videos.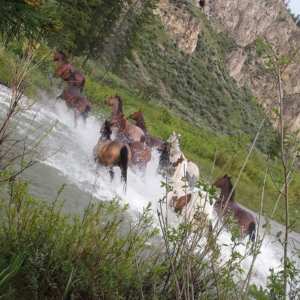 Everything here at the ranch is in full swing – we finally got some rain today, but the weather has been wonderfully gorgeous and the horses and crew are happy and waiting for all of you that have yet to arrive! Hope you all are having a good summer!
-Eryn