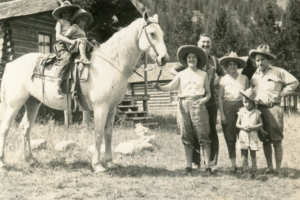 J.T. and I were going through some old photos of the Ranch today, which then turned into a day long (and probably a week long) project! Which then turned into a trip to the office supply store to buy a scanner! Which then prompted me to start a series of old photographs about the ranch. Only a few of these photos have dates, but we have thoroughly enjoyed sorting through these pictures.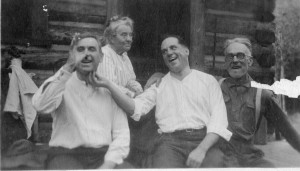 It seems that the cowboy attire hasn't changed much in the years that followed. This picture was taken in 1958. The last name on the back of the picture is the Rydell Family when they went on
Vacation At A Montana Dude Ranch
 (see below).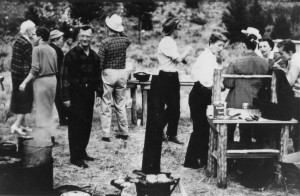 And then we found this old photo of the cookout at the ranch. Seems like "dudes" dressed a little different in those days. Wish I had the year this was taken!
Stay tuned for more good times at the Ranch!