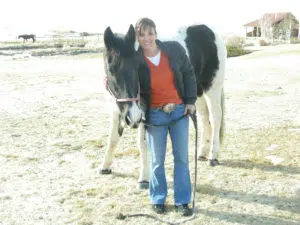 I think I can get through this memorial without crying, but there are no guarantees. And you will probably feel the same after reading this. I guess it's somewhat controversial as to whether or not I should post a sad story, or some of the dark side of owning and running a ranch, but I feel you should know all that goes on at a Montana Dude Ranch and the difficulties we sometimes face on a day to day basis. When you own 60 head of horses, it's not always about the good times.
He was a beautiful horse. One bright day in March our vet, and friend, Dr. Shannon Moreaux, brought Apache to our home. His owner needed to find a good place for him and Shannon knew we would take care of him. My sister and her family were staying with us this week, and it was an exciting time. He was a beautiful horse. A black and white gaited paint. He held steady as you jumped on his back without a saddle. Soft and fuzzy from a winter coat. But most of all, big, beautiful black eyes that you could look into and see what a kind soul he was. I believe the best way to tell a good horse is by the look in his eye and the smell of his coat. I could breathe in that smell-almost hypnotizing and peaceful.
He did well at the ranch after some rough starts. He always seemed to cut his leg or get a hoof abscess and we had a hard time getting him to saddle and ride. But midway through the summer he was up and running and the guests loved him. He was too kind to give anyone a hard time under saddle. I think he was happy to have found a good home.
And then last Friday night JT and I were cleaning up after the cookout. It was dark. I was walking my dog and could hear some noise in the corrals. I yelled to JT to get a flashlight to see what was going on. Apache was down on the ground and obviously thrashing about for about an hour. The dreaded signs of colic-the number one killer in horses with little explanation as to why it happens. We got him up and about, gave him a pain killer and took his vitals, then called Shannon. It was 10 pm, but he is always there to answer my calls. Such a caring, dedicated man. An hour's drive and he confirmed he was a surgical candidate-but a good one. This particular type of colic-a right dorsal displacement, carried the best odds of success in surgery. But there are never any guarantees. The question, he said, was whether or not we were willing to pay the $4000-$6000 necessary to perform the surgery. The decision was simple. Yes. Off he went to the OR and we went to bed. At 6 am the surgeon called and said things did not go well. His intestines turned and cut off his stomach-never to recover. It was the end of his life with no hope for success. It was over.
I love my horses. They are beautiful animals and we trust our lives on their backs. It never ceases to amaze me how quickly they sense who we are, how we ride, and how we react when we ride. They're not big clumsy animals with a small brain-quite the contrary. And oh, those eyes and that smell. Heavenly.
So this is the hard part of the job. And to share with you just how much we care for our horses. After all they give to us, I could only honor and respect the decisions we make to help them get through life. At least I know I did all I could. You will be missed Apache, and Buster and Scout, your two buddies, say goodbye. I see you heading up Cameron Draw to your new pasture. I know that Satin, my beloved mare I lost last year, will find you.
"Don't cry for the horses, that life has set free
A million white horses, forever to be.
Don't cry for the horses, Now in God's hands,
As they dance and they prance to a heavenly band.
They were ours as a gift but never to keep,
As they close their eyes forever to sleep.
Their spirits unbound on silver wings they fly,
A million white horses against the blue sky.
Look up into heaven, you'll see them above,
The horses we lost, the horses we loved.
Manes and tails flowing, they gallop through time.
They were never yours. They were never mine.
Don't cry for the horses, they will be back someday.
When our time has come, they will show us the way.
Do you hear that soft nicker, close to your ear?
Don't cry for the horses, love the ones that are here"
unknown author