I thought I would take a little time and go over some fun facts about our horses at the ranch, as well as horses in general. We all love horseback riding in Montana, and even if we don't ride at our Montana Dude Ranch we still love the animal. I just love watching their behaviour, don't you? So I thought I would take a few minutes and just share some insights to bring a smile to your face!
First, we all wonder if horses, and animals, can really talk. Well here's a little clip I watched the other from Saint and Alfie "chumming it" in the pasture:

Every time I watch this, all I can think is that they're goofing around and then decide to tell each other it's time to go run around the pasture for a while, and then they take off!
I also love to just watch the animal run. One of my favorite times is when the wranglers run the horses down the mountain Monday mornings and move them into the corrals-ready for work!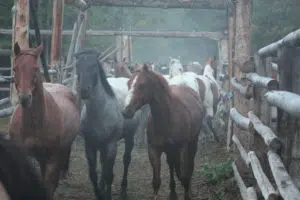 And then, of course, we get the pleasure of horsebacking riding in Montana once you're at the dude ranch and get to see them at work in some spectacular country.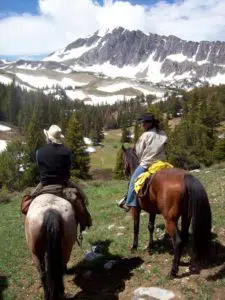 But best of all, we get to love them, and I know they love us too! There's nothing better than hugging your horse 🙂