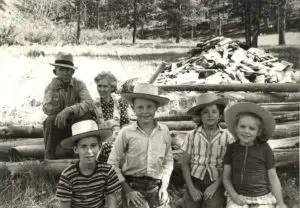 Isn't history wonderful? We are so grateful to the DeVore family, and especially Jennifer DeVore, for providing us some photographs of the ranch that started back in the 30's! The DeVore family had been coming to the ranch for generations since the 1930's. Here is a photo Jen provided that was taken at Cameron Springs (near the draw) . It's a picture of Charles and Emma Cameron with grandchildren (including Cameron DeVore-Jen's father).
From Jennifer's Notes:
"I know that my father's grandfather and great-uncles – Charles Cameron and Perry and Zade Morgan (brothers of Charles's wife) had a cabin at Cameron Springs.  They all lived in Bozeman, families there since around 1870s or so.  The cabin burned down sometime in the 40s (???) and that's when my dad's family started coming to what they called Benson's.  my dad still has Morgan cousins who live in Bozeman and there are DeVores in Helena but most of the family moved away from Montana but kept coming to the Gallatin to stay at the CWR pretty much every year.  My own family started coming in the 70s when Vic Benson was there (I think my dad called him Benny).  There was a great guy named John Haynes (? ) who used to come and sing camp songs around the fire."
Sadly, Jennifer's father, Cameron DeVore, passed away this year, but Jen said the family is going to try and arrange a family reunion this year at the ranch. I think they would be pleased to see how well we have taken care of this ranch. Jen is going to forward an old Cowboy songbook she found, which was put together by her uncle, Charles DeVore (who also sadly passed away several years ago). Charles put the songbook together specifically for the Covered Wagon Ranch, and sure to be used around the campfire next summer!
Here's some more photos Jennifer provided to us. It's the ranch in the 1940's. Jeremy thinks one of the horses there is "JOSEPH" hahahahaha