Two years ago Uno (JXL Blue Bar) was struggling with soundness so I went on the hunt for his full sibling.
I tracked down the breeder, JXL Ranch, in Canada. I asked Janice if she had a full sibling to Uno or if she knew of one out there. She said he didn't have any full siblings but he had a half sister out of the same Dam, Rhonda's Bluebars. The mare was open and Janice was happy to breed her to Uno's sire, Mia Colonel Rooster. I said yes, please do! She didn't know if I was serious and only talked to me a couple times via messenger but she followed through with it!
She hauled Bluebell (Uno's sister) to the stallion Mia Colonel Rooster to have her bred. A few months past and I got a message from Janice, saying Bluebell was confirmed in foal! I was in shock and figured now would be a good time to really tell Kurt what I had been up to – instead of just the casual conversation we'd had! Janice was nice enough to offer to sell the unborn foal and Bluebell, who was a well bred broodmare and had already had 12 babies. We agreed, and Shelby and I took off towards Canada to meet Janice.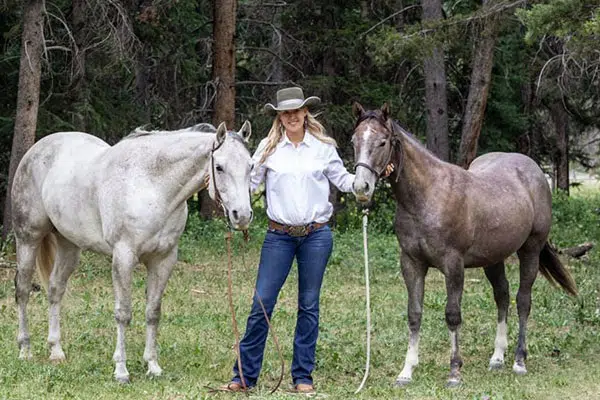 Eight months later we had a handsome stud colt we called Dos. Everyone knows the love I have for Uno and that we have been to the end of the world and back for him, and to have the opportunity to own a 7/8 sibling to him was one of the best gifts I could have asked for. The funny thing about the whole story is that I wanted this horse and Kurt is the one that has fallen in love with Dos. I don't think I will get Dos in the end, but that's okay, I got the number one, Uno, and he was suppose to be Kurt's anyway! Pictured is Uno and Dos! Dos is a yearling now and still a stud colt.