Getting to know the Barn Boss…Sarah
Please tell us about yourself and your riding.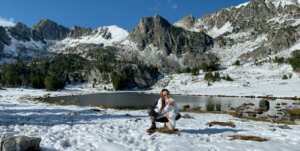 Well, I grew up in New York so I rode English and went to a summer camp where we jumped a lot. I never really showed but was more of a lesson kid who was way too quiet to make barn friends (little Sarah was a lot more shy than I am now).. When it was decided that this was a way too expensive hobby to have, I stopped riding for a while. When I was in college, I started back riding and working different places including a rescue, a Friesian farm, with a gal that worked mustangs and about everything in between. I got a lot of my experience this way and I am somewhat competent now but there's always more to learn. In terms of my personal life, come to the ranch and I'll tell ya on one of our rides .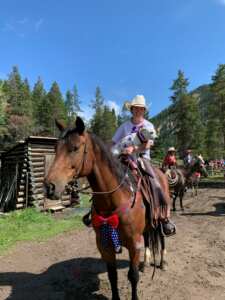 This is your third summer at the ranch, what keeps bringing you back to the Covered Wagon Ranch?
I love riding with guests, and the Covered Wagon is one of the best places to ride. We seriously do have some of the best riding you'll find at a guest ranch. Becoming HBB kept me around too, as I've always shot for a management position. I'm constantly working to be better at my job because as everyone knows, when we're at the ranch it isn't really just a job but our entire lives! But Kirsten's cooking, my little Loretty and a good place for Freddie and Hammy are the real reasons.
What kind of rides can guests expect to go on while visiting the ranch?
Whatever they want!! We have soooo many rides that we can pretty much accommodate whatever rides people want to do—flat or steep, short or long, in the trees or out, or anything really. Kurto gets a feel for these things at breakfast.. Or maybe me or Melissa too since Kurto's fixing to retire (although I don't either of us can chew into the radio as loud as he can) But anyways yeah we only plan one day at a time so the world is your oyster at the ol Covered Wagon.
Who is your favorite Covered Wagon Horse and why?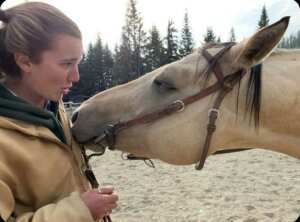 My favorite Covered Wagon horse is the second most beautiful thing on the ranch (behind me), Princess Loretta Consuela Bananahammock. She's been my girl since my first summer and let me tell you, she continues to challenge me every single day with her attitude but we get along alright and has truly become my go to. I'd do anything with her and probably survive on most days.
What do you consider your specialty?
I try to keep it pretty real and will never be fake with people. Yes, it is my job to be nice to guests but it's genuine because I'm very nice ?. I love meeting all the guests and could sit and talk to them for days, but I also can get down to business pretty quickly if I need to. I don't really think I have many specialties but I like to think I'm a pretty versatile person.
What are your goals or visions at the ranch?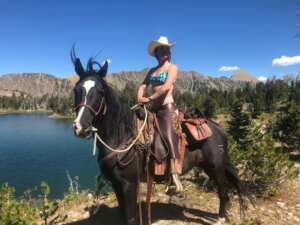 My goal of every day is to have no incident reports and for everyone to stay on top of the horses they step on until they decide to step off. In a larger realm, I hope to give Kurt a reason have less anxiety during the season.
What do you like to do on your off time?
Hang out with Freddie, hike with Freddie, ski with Freddie, ride horses with Freddie… shall I go on?
What is something you are known for?
Freddie? He's the star of every show. Other than that, at the ranch I think I'm known for drinking beer while trying to rope, giving horses weird nicknames, wrangling in my slip on chicken shoes, and packing my bikini to swim in lakes on lunch rides.
What is one thing people do not know about you that you would like to share that would help them to get to know you better?
Come to the ranch, lets ride, and I'll tell you all you want to know because I sure can't think of a very good answer.