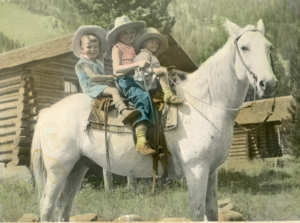 Some things never change! Here at the Covered Wagon Ranch, we've gathered up plenty of cherished traditions in the past century, and are still creating them today.
The Horses
Riding is our oldest tradition. Today we ride on hundreds of trails throughout the Gallatin Mountains. We keep our groups small and our rides personal, tailored to each guest's Wild West dreams. Of course, happy horses make happy guests, and from a young a age we treat our MVP employees with respect and care. Our colts start training around two or three years of age, and are eased into the world of trail riding. At the end of their career, Kurt and Melissa find them the perfect retirement home to spend the rest of their days as fat and happy "pasture ornaments".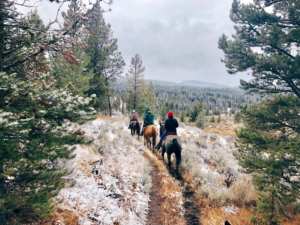 Meals
Suppertime at the CWR is family time. Guests and crew all sit down together and pass the serving plates, just like we do at home. Which makes sense, as the ranch is a second home to many, and a second family too.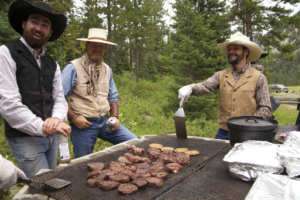 Rest and Relaxation
Second to riding, folks come to the ranch for some much needed self-care. You can find them tossing around horseshoes, toting fly-fishing poles down to the Taylor Fork Creek, shooting pool in the rec hall, or just lounging on their cabin porches. Most nights we pull the s'mores basket out to the fire pit in front of the lodge, and if you're lucky, you can get Kurt to play his guitar!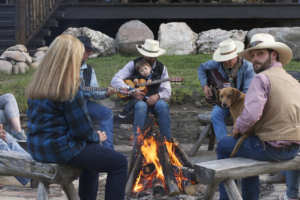 Guests
Our guests create their own traditions when they visit us.
Mary aka "Grandma Bling Bling" always gets her Christmas card picture taken with the men of the crew.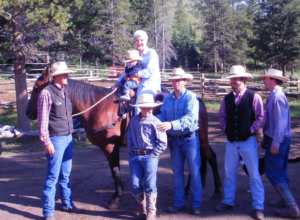 Keith requests Twinkies and Scotch be left in his cabin.
Rick and Linda love to spoil Kara, aka Queenie, feeding her treats and welcoming her to their cabin.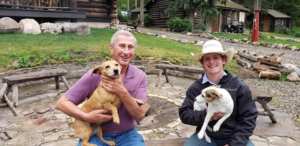 Some guests always stay in the same cabin, every year, for decades, or ride the same horse or visit the same trails.
For some guests coming to the ranch is itself a tradition. David comes three times a season, Tiffany's practically grown up here, and Bill and Lyn have been visiting for over thirty years.
What's your favorite tradition at the CWR? What's something you want to see become a tradition? Let us know in the comments section below!