So, You Want A Schedule?
Let me explain one thing…. I am OCD, my husband calls me CDO because OCD isn't in alphabetical order! And I am all about schedules, routines, my planner and what is happening next…but not on vacation! I get it you need a general idea of your plan for the week so I am here to lay it out for you, in hopes of you learning too that vacation is a time for you to let go of that schedule, let loose, have too many glasses of wine, laugh until your stomach hurts, meet new friends, reminisce with old ones, watch your kids 'be kids' but most of all a time to R-E-L-A-X and recuperate. Because I know what it is like to be a control freak and what is happening next, I am going to lay what a week at the ranch looks like for all those people that are like me and want to let go…. but struggle!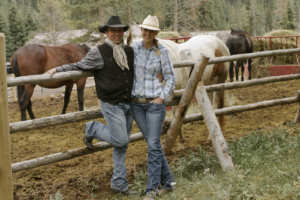 We are a small, authentic guest ranch with ten guest cabins. We have on average 20 guests. You can come and leave any day of the week you would like but a few things to keep in mind. We do not ride on Sundays or day of departures. It is a minimum of a three-night stay. We have 17 crew and Kurt and myself that make the ranch operate.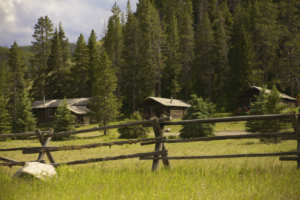 Sundays-Guests arrive to the ranch, people stay for 6-nights. This allows you to unpack, unwind and enjoy the experience. I understand you have a week off work, and you want to experience as much as humanely possible and you can venture down the road, but you might as well plan a couple days on the tail end for a vacation from your vacation because you will be exhausted…at least I would be!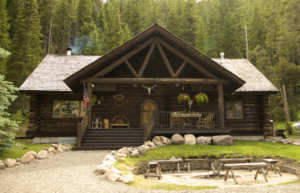 Here you have it a 6-day Schedule
Sundays-This is the day you arrive at the ranch. Check in time is 3PM, we give you a tour of the ranch, show you your cabin and get you all settled. Appetizers/Happy Hour is at 6:00 on the patio and dinner is at 7pm. Happy Hour, yes, I said it, but that doesn't mean you have to drink, it just means that you have the opportunity to mingle with other guests, share stories and get to know everyone.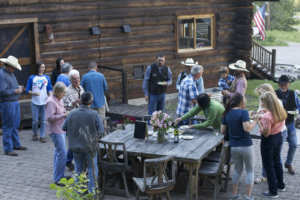 If you do enjoy alcohol, it is BYOB, so I suggest bringing some! Love a glass of wine at dinner, beer after a long ride, or whiskey on the rocks? Do it you are on vacation!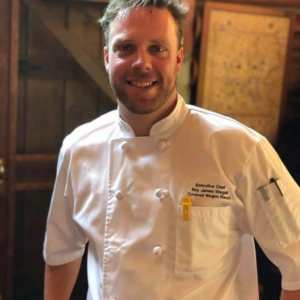 Dinner is served family style in our rustic lodge. But I am a vegetarian and I don't eat gluten? That isn't an issue whatsoever at Covered Wagon! We got you covered, my executive Chef, Roy James, has been with us a long time. He loves what he does and caters to individuals. What kind of food can I expect? We call it Ranchero Novelle. It is food you would find at a ranch with a touch of fine dining in it.  Roy James is all about presentation, quality, and quantity. One thing is for certain if you go hungry at the Covered Wagon Ranch it is your own fault! What about dessert? Dessert is plated and tastes even better with a cup of coffee! Every night after dinner we have a fire outside the main lodge. You decided to skip dessert? Well you have a second chance at smores or join Braxton and fill up on Hershey chocolate-because we all know he will be there! Take a walk to the barn with us to do "critter check" or take a walk on your own to see the horses (they love the attention). Go fly fishing, watch the stars, play a game of horse shoes, or continue drinking and mingling with other guests. Whatever YOU want to do, remember it is YOUR vacation (I promise that won't be the last time you hear me say that)!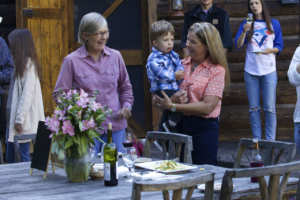 Monday- Coffee is on at 6 and breakfast is served between 7:30-8:30 daily. If you are an early riser and the rest of your family aren't, come join Kurt in the lodge, have a cup of coffee, read the paper, sit by the cozy fire. The lodge is your living room. A place to relax and trust me nothing is more relaxing than a good book, coffee and a warm fire! Anyway, back to breakfast. Breakfast is a combination of buffet and to order. There are always hot and cold cereals, breads, a fresh baked pastry and fresh fruit on the buffet line, but you also put your order in with the server. There is always a specialty item such as eggs benedict and we always have French toast or pancakes, eggs and bacon or sausage…so you tell us what you want.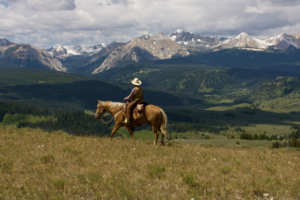 This is the time Kurt makes his way throughout the room asking everyone what they want to do for the day. Our riding program is what we are so known for and that is probably one of the reasons you booked with us! He will ask you a straight forward question, what is the plan for the day? But what does that mean? I will help you out with that, do you want to go for a half or full day? Do you want to take a lunch or come back and have lunch at the ranch? Do you want to stay flat, climb, end up at a lake, view, up and back, or leave at one place and end up at another? My returns usually have an idea of where they want to go and tell Kurt this at breakfast. We do not have a signup sheet or a schedule of rides. You tell us what you want to do and believe it or not he generally makes it happen! If you have no idea (which some guests don't) Kurt is incredible about choosing a ride that you will enjoy. What about horses? Well Kurt and I (so be careful not to make me upset, just kidding) pick your horses. We have everyone from beginners to experienced trainers that visit our ranch. We pride ourselves in our horses and our horse program. We ride on close to 100 different trails, we run three trucks and trailers daily, we are outfitters in Yellowstone National Park, and we ride anywhere from 6,500'-10,000' in elevation. Our horses are ranch raised and we know them inside and out. Most of the time we do a good job on picking the perfect horse for our guests.
8:45-we meet at the barn for orientation (only new guests) and we get you setup on your horse. Rides generally go out between 9-9:30. We keep our groups small with 4-5 people in a group or in rare occasions 6 if it is a family or a group of friends. All our rides are guided, and we do offer daily lessons in the arena for those that want to do that.
1:00-Lunch is buffet style at 1:00, unless you are on a full day ride in which you would have filled out a lunch card (what kind of sandwich you want) and filled your complementary lunch bag with goodies that are healthy and not-so-healthy.
2:30-Our afternoon rides try and leave about 2:30 and return between 4-5 (depending on what you want). These rides are designed for those who didn't want to do a ride in the morning/full day but wanted to take a short ride in the afternoon or someone who checked in on a day other than Sunday (you can ride the day of arrival).
2-6:30 this is you time. Some people go to Big Sky to do an off-ranch activity, some are still on a ride, some sit on their front porch and drink, some read, some fish, some float the river, some hike and some sleep!
6:30-Appetizers and Happy Hour. Monday's dinner is different we do a Margarita Meet and Greet! Monday nights are designed to be a load of fun. We have a cookout on the patio filled with wild caught Salmon and a red meat. This dinner is served buffet style outside and you can choose to eat inside or outside. This night is new to the Covered Wagon's program and Chef Roy James and us are excited to launch it this summer! Monday night is accompanied for a fire and your choice of evening activities.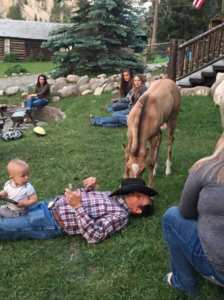 Tuesday & Wednesday are very similar in you choosing what you want to do that day and dinner is served family style. Thursdays we bump dinner up an hour early so if anyone wants to go to Music in the Meadow in Big Sky or the West Yellowstone Rodeo, they can. You do not have to go to either event, some people like to relax and enjoy the quietness, once again whatever YOU want to do! Appetizers are at 5:30 and dinner is served at 6:00 Buffet Style-Pasta night!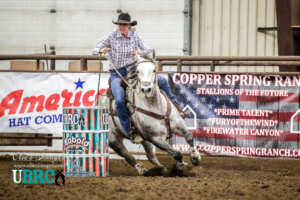 Friday nights are a ton of fun at the ranch. Dinner is at the Rec. Hall and it is Surf and Turf. We offer Filet Mignon, Catch of the Day, Mountain Sausages and Hot Dogs, live music, camp fire with smores of course, dancing, roping dummy's, horse shoes and other lawn games and games inside the rec hall.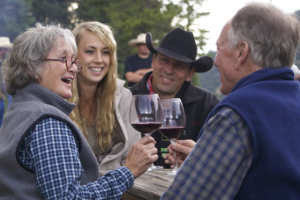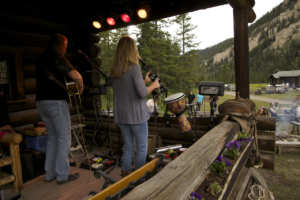 Saturday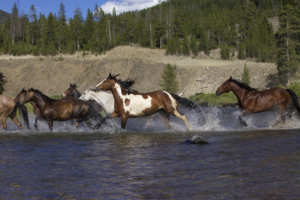 Saturday morning- Day of departure we have a buffet style breakfast, shed tears, check-out, make reservations for the following year and say our goodbyes. Check out time is 10AM and then we do it all over again!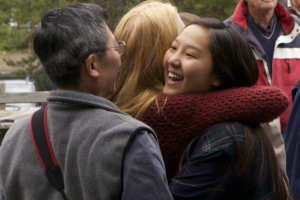 What about the kids? Kids are welcome at the Covered Wagon! Kurt and I have two boys of our own that are 2 and 5. We consider ourselves a family ranch and many of our return guests have children that have been 'raised' on the ranch coming year after year. We have two play yards with endless toys, swing sets, teeter totter, yard games, a Rec. Hall with a pool table and foosball, board games and a play room in the main lodge. The kids can have as much or little to do with the horses as they want. We offer daily lessons if they want them. They GET to eat with you, ride with you or ditch you if they want. They get to be kids in the mountains, on a ranch. They form friendships with people and their four-legged friends. They will love it; the only question is who will love it more you or them?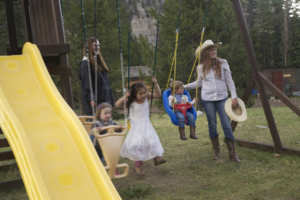 What about off-ranch activities? You have everything from zip-lining, whitewater rafting, skeet shooting, kayaking, mountain biking, Lewis and Clark Caverns, Virginia and Nevada City, Museum of the Rockies and the most popular Yellowstone National Park all a short drive from the ranch! Keep in mind in order to do any of the off-ranch activities you will need your own car, but guess what? The Bozeman airport has cars for you to rent!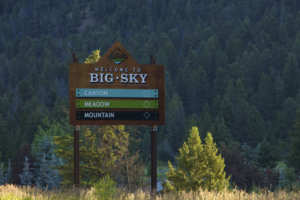 So, there you have it a step by step schedule of the week for you…for all my adults who like me, need a plan! We are real people with a love and passion for the outdoors, Montana, horses and people! It is simple, we love what we do!