HELLO CWR FAMILY!
We had a wonderful season at the ranch this summer. Actually we extended our season this year into October and had a great success, so we will continue to do in the future. It was nice to wrap up the season with fall weather, a little bit of snow and a great group of guests.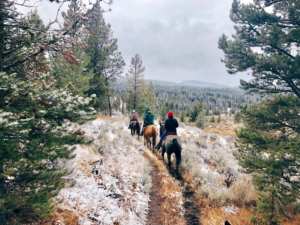 We will reopen the gates June 10th. The reservations are crazy for next year and availability is getting pretty limited especially for June and July. The horses are doing wonderful! We are wintering the herd at our property we call Braxyer which is a complete change on CWR history but sometimes change is good and to be able to see them every day is a good thing! We have been working a lot on fence out there, different pastures and built a 5-acre feed lot where we will feed them this winter. They are going through about 2,100 pounds of hay per day! Yes, you heard that right a little over a ton a day. Needless to say, our bale bed truck has been getting used and we have been feeding every couple of days.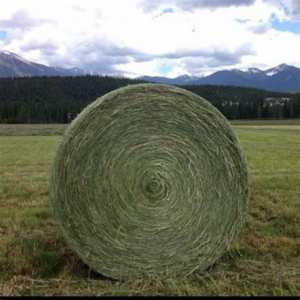 Kurt and I are excited to announce we bought a house in the valley! We originally were going to build at the property where are horses are but decided to put that on hold and ending up buying a 107-year-old house in town. We officially closed on our new house in the town of Three Forks (90 minutes from the ranch) October 1st. We started construction/remodeling on the projects we wanted done with the house and wrapping that up in the next week. It has been quite the process. We cannot even begin to explain how excited we are to have all our horses in one place and so close to our new home (15 minutes). The animals are adjusting and enjoying 'City Life.' We are closer to the horses, family, schools and a community and are loving it!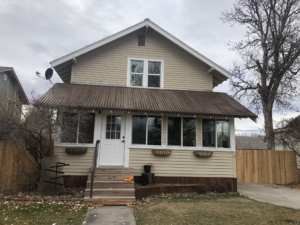 We officially sold the hunting business in May and Kurt enjoyed not being in hunting camp for the first time in 15+ years. It was nice to have him at home and his help at the ranch in September/October. With us selling the hunting business we are cutting down our herd size. It has been a challenge to us emotionally, but we have been very fortunate in the homes they went to and everyone has kept in contact with how they are doing. Kurt just got back from delivering 6 across the country and putting 5,300 miles on and being gone for 8 days. After 22 years at the ranch Toby was retired to long time guests in North Dakota and reunited with old Covered Wagon horses. We have two babies due in April 2019 and I plan on barrel racing throughout the winter.
Braxton is beyond excited for Christmas and has been begging us for the last two weeks to put up the Christmas tree and asking when is elf will be back. Kurt is pretty adamant we wait until after Thanksgiving but maybe a cute 4-year old can persuade him into putting it up this week! He is enjoying pre-school and loving the new house. Sawyer is 100 miles an hour and a hot mess. He talks non-stop and is right there with his big brother. The things he says make me laugh a lot. As for Kurt and I we are doing great and enjoying our life.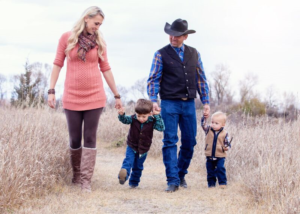 On behalf of the Covered Wagon Ranch and the Puckett's we hope you have a wonderful Thanksgiving and a great Holiday!
Melissa