Do what makes you happy…. okay animals make me happy!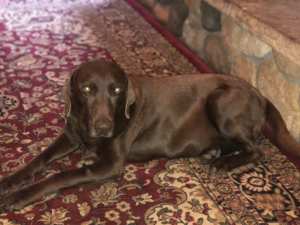 As most of you know Kurt and I do not have a shortage of animals 94 horses and mules (soon to be 95 after Rain foals), Devil the cat, Nellie the pig and 3 dogs…well that number has now changed.
Last spring, after we purchased our property by Three Forks, Montana that we now refer to as 'Braxyer' named after our two boys, Braxton and Sawyer. We had a few dogs occasionally show up. Each time they showed up Austin and Sarah would call the owner (they had collars at the time) and the owner would bring them home. Well we moved up to the ranch last May the season got started, fall came, winter came and now it is spring 2018. We are back at the property living and so are the 1-3 stray dogs, this time without collars on.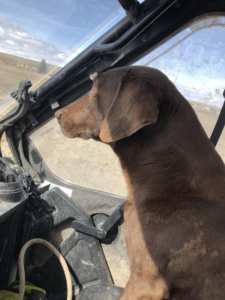 At first Kurt would call the owner and he would come get his dog. This started out to be 1-2 times a week. At first, him or his mother would come get the dog/dogs. They lived about a mile down the road from our property. Well as time went on we quit calling because we would leave messages and the dog would still be at the property. We finally gave in and decided to feed the brown dog, who was nameless, and we called Brownie for several days before learning his name was Levi.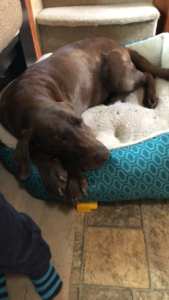 (He made himself right at home)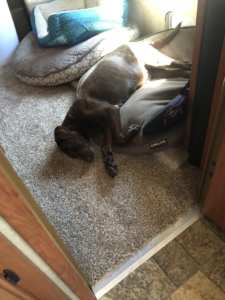 Now let me set the scene here. This a lab, (Kurt's least favorite dog), a male (Kurt does not like boy dogs) and we have three dogs already.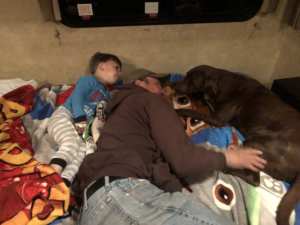 After three days of Levi living with us and treating him as our own, we were working on the corrals and a random car stopped. A lady steps out of the vehicle "Is that my dog or your dog?" My response, "Well that depends, it may have been your dog, but it is my dog now…" She laughs and says, "Joint Custody?" and comes in the gate to retrieve her dog. He is a happy dog (no signs of abuse) and jumps in the car. When I asked why she didn't come get him three days ago she tells me she knew where he was she saw him in the pasture the day before and she would "bring over a bag of dog food." And just like that Levi was gone. Well a week passed, and it is Monday morning. It is storming, and I am loading Braxton in the car to head to pre-school. On the way to my car I find two wet and cold labs. I immediately got frustrated, Kurt called and tried to reach the owner and had no luck, so I loaded the two wet, big dogs, in my car and drove them home. I will leave this part short and say I was pretty stern with the fact that if they didn't keep their dogs at home I would not be returning them or calling them anymore.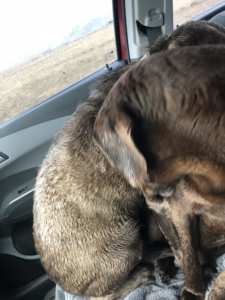 A few days later we were at the dog owner's house after buying a building from him. We talked about Levi and our immediate love for him and how 'good of a dog' he is. He proceeded to tell us that he moved into town and couldn't take them all so Levi was forced to stay with his parents and their three dogs. Kurt and him talked back and forth about it and he was persistent that if he is happy with us he should just live with us.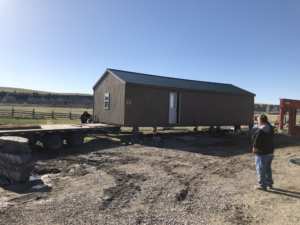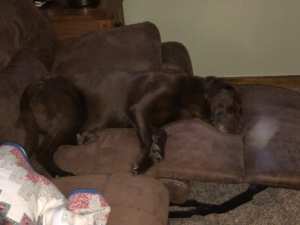 Levi was adopted from a kill shelter in California by this guy's mother 7 years ago. He must have grown up around kids because he is amazing with our two boys (more so than our other three). He has a kind eye, potty trained, well behaved and listens great. Unlike most dogs our three girls like him.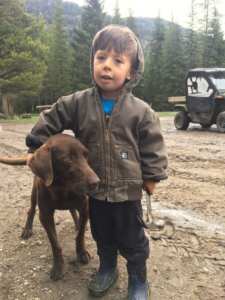 Over the course of the next few days we were at Levi's owner's house a lot preparing to move the building we bought from them. The renter, who lived in a house behind the main house, shared stories about Levi and that he most likely left the house and wondered to ours because no one was ever home, he was only fed once a day and said sometimes that didn't happen and would get into the trash.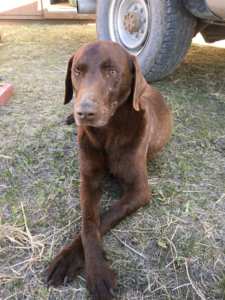 The last day of moving the building Levi came home with us and has never left. We didn't tell them we were taking him, but they knew where he went. It has been about 6 weeks since he came home with us. Like all our dogs, he is on a verbal leash and hasn't tried to leave once. He has never got in the garbage, had an accident, got into it with our dogs and Sawyer and Braxton love to cuddle with him. Our best guess is that he is 10-11ish, a Chocolate lab and he is semi-crippled. He is pretty Bow legged, stairs are hard for him, but that tail is always wagging or thumping on something. His eyes are bright, he has fattened up and well Levi makes number 100  here at the Covered Wagon Ranch where he will spend the rest of his life loved on by our family and the Covered Wagon Ranch Family!
Melissa