Last fall I was in the office swamped in paperwork and playing catch up when I get a phone call inquiring about a stay at the ranch the following summer (2017). Her voice was sweet and calming she was witty and talked of coming to the ranch nearly 20 years ago, Will and the beautiful area. She told me she was determined to get back out to the Covered Wagon and 'if she was still alive' she would be here next summer. This caught me off guard, but as I mentioned she was witty so I shrugged it off and knew I would find out what her comment meant down the road.
A few minutes later I asked her if she would be celebrating anything when she would be out here and she told me "Yes, my 90th birthday!" this caught my breath….did I just hear her correctly? Her 9-0-t-h birthday? How amazing is this lady? Wanting to come back out to a ranch she visited nearly 20 years previous. And this is where I was reminded the first time that age is just a number. Rose-Mary I assume you will not be riding when you come see us? Oh no I will most definitely be riding a horse at the ranch why else would I want to visit? You know that saying when you Assume you make a%$  out of you and me? Well that certainly was the case!
Twenty minutes later we were wrapping up her reservation for the following summer stay and she said now what about the deposit? We talked about the details and she asked me a question I didn't know how to answer…what happens to my deposit if I die? Well Rose-Mary ma'am I am not sure how I would know if you did? She chuckled and said well I guess it doesn't matter if I am dead! And we finished up the phone call.
Months past and I hadn't heard from her and I was so concerned that something had happened to her. I tried calling her several times and no answer or even voicemail (and she doesn't have an email). Time passed and I just hoped for the best. About two months before her scheduled arrival my office manager asks if I had heard from her. I told her no and she continued to try and touch base with her. One random day I picked up the phone to call her with my fingers crossed she would answer and boy did I have a sigh of relief when her sweet voice came across the phone. We talked for a few minutes and she confirmed she would be coming to the ranch.
Two months later on our way home from a barrel race Kurt gets a voicemail from Jason, Rose-Mary's son, who is in a panic, worried about his mother. Jason was checking in to see if Rose-Mary was okay and made it because she never called him. When we got home we are walking up to the fire pit at the main lodge and see a wide array of familiar faces. We were doing our rounds when there sits the sweetest lady and right then I knew it was my Rose-Mary. We sat and visited for a few minutes and other guests were mentioning her sharpness and witty comments for her age. It was dark and her cabin was a jaunt from the lodge so I walked with her. As we entered the cabin feelings I had tucked way in the back started to reappear. I sat and visited with Rose-Mary helped her unpack, doctor a wound she had, talked to her about the ranch and the plan for the week. I left her cabin and tucked my boys into bed and looked at Kurt and he knew that face. He knew I was happy. I climbed in bed that night full of joy.
The next morning Rose-Mary hadn't came to breakfast yet. I went to check on her helped her with a few things. She was afraid that she was being more challenging than the other guests and I looked at Rose-Mary and told her I lost both my Grandmother's and that helping her with these little things was the least I could do. And just a few minutes later Rose-Mary and Snickers went up the trail.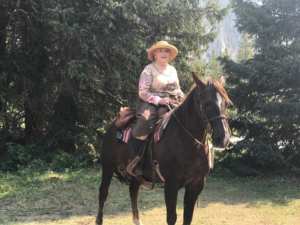 So here are a few things Rose-Mary reminded me of and hopefully she can teach you:
It doesn't matter when you decide to go on that dream vacation as long as you remember to go.
Your ranch family will welcome you with arms wide open whether this is your first trip or your thirtieth. Trying to decide if you can do a trip out to the ranch by yourself? Well I assure you Rose-Mary was not my first client visiting the ranch by herself, in fact September is very popular for singles!
Horses know….but they don't care how much you know as long as they know how much you care. Snickers knew that day he was carrying precious cargo, but to him everyone that mounts his back is precious cargo.
To quote Ray Hunt "It's amazing to learn what you can learn after you've learned all you think there is to learn." The day you stop learning is the day you turn your toes up. That week I learned you are never too old to do something you've been wanting to do……
Age Is Just A Number.