They Cook Therefore We Eat!
We are back and so excited for this summer!
Our crew has started to arrive and are eager to start the summer season! We cannot wait for you to meet all of our new crew and see our returning faces! As you all know, this ranch wouldn't be what it is today without our four legged friends. However, we must give credit where credit is due and our Chefs sure do give us something else to look forward to! We are extremely excited and grateful to have two returning chef's this year; Rob and Roy.
The Covered Wagon Ranch takes pride in everything we do, and we are honored to have these two Chefs at the ranch this summer to make sure everyone's belly is full of the best homemade food around!
Rob was our breakfast and lunch chef in 2014 at the ranch and cooked in the back country for hunting camp as well! We are stoked that he will be returning as one of our Chefs this year at the ranch! Rob is known for his great food, easy going personality and if he isn't in the kitchen he is probably down by the river fishing!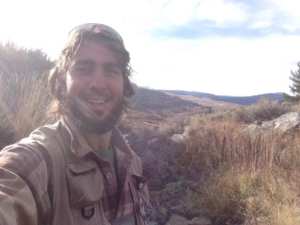 Roy was our Dinner Chef in 2016 and stayed  around Big Sky this winter and is back at the CWR for round two! Roy is a pretty amazing Chef with a lot of Creativity. He is originally from Southern California and has spent most of his career as a Chef in the Rocky Mountains. Unlike most Chefs, Roy enjoys nothing more than cooking over an open wood fire. Chef Roy is known at the Covered Wagon Ranch for his authentic pizza, smoked brisket, homemade pasta and our house smoked BACON! A Chefs best kept secret is their recipes, but we have convinced Roy that everyone needs a taste of some CWR favorites at home and he agreed sharing the BAT CAKE was a great idea! (Recipe below).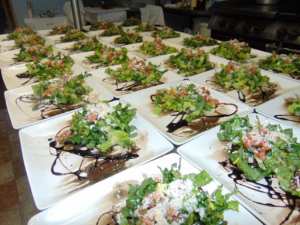 The salads at CWR are unique and D-Lish!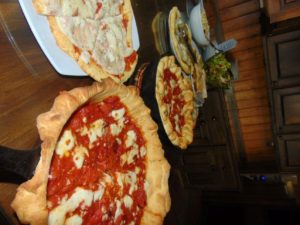 Pizza after a morning ride? You bet homemade Pizza happens here at the CWR!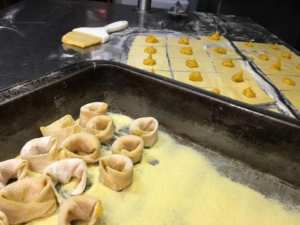 Homemade rolled pasta…yeah that's our style!
WARNING: Consumption will cause an urgent trip to Covered Wagon Ranch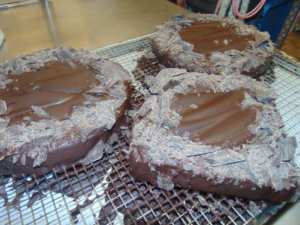 The Bat Cake
Chocolate Truffle Cake
2 cups sugar
2 cups flour
1 cup Ghirardelli Premium Baking Cocoa 100% Unsweetened
2 teaspoons baking powder
1 teaspoon baking soda
2 eggs
1 cup milk
1 cup coffee
½ cup oil
1 teaspoon vanilla
-Method: Bake at 350
Ganache
2 cups Barry Callebaut Bittersweet Chocolate 54% (shredded)
2 cups Hevay Cream
1 Tablespoon Karo Dark Corn Syrup
-Method: Place all ingredients in a medium stainless steal mixing bowl. Place bowl on a medium sauce pan with 2 inches of cold water. Set to medium heat. Mix with, a heat proof spatula slowly while the mixing bowl heats up. Mix till a smooth Ganache from.
Salted Chocolate Shards
2 cups Barry Callebaut Bittersweet Chocolate 54% (chunks)
Celtic Grey Sea Salt Medium Grain
-Method: Melt chocolate on to a parchment paper. Spread to a thin layer. Sprinkle on high over melted chocolate. Allow to cool before breaking in to shards
Construction: Allow cake to cool. Ganache should be warm yet not hot. Place cake onto a roasting rack in s sheet pan. Poor warm Ganache evenly around cake. Place chocolate shards along sides.