The snow is still at the ranch and so I guess that means winter is still here! The holidays have come and gone and we started a New Year. The summer is nearly sold out for 2017 with just a couple holes here and there and reservations are starting for 2018 so if you want specific dates for next year I highly recommend giving us a call sooner than later.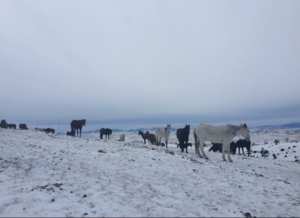 Horses are at winter pasture near Logan this year and we are so in love with their new pasture. There is about 82 head there on  2,500 acres. This past fall they fixed a ton of fence and had to continue to do so throughout the winter due to the elk. On numerous occasions, there has been a herd of about 200 elk hanging out. It is truly majestic and breathtaking when we go out there and see the horses in their natural environment. Kurt checks on that about every five days and brings the side by side out there. They are pretty farmerized and when they see that green side by side coming they come running knowing they are going to get grain! Big Nose Kate has her posse of yearlings and two and three year olds. They follow her like she is the mama. Unfortunately, we didn't get her bred, but plan on trying again this year.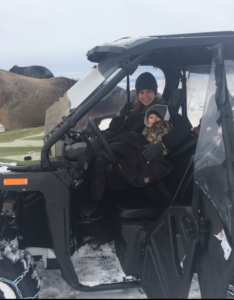 Speaking of breeding we are excited that we are going to try and breed 5 mares this year, one being to jack so we can have a baby mule on the ranch next year! We have ten horses at the ranch now, our family's personal horses, Rita, who is due to foal in April, two colts (Dollar and Dolly) and our sweet Nikita who is still trying to heal up from an injury 18 months ago. L Her mama, Ojos, got a pretty bad wire cut a few weeks ago in winter pasture and she will be coming back to the ranch from the vet in the next couple of days. So we have lots of caring to do here at the ranch too!
The most exciting news for us is the birth of Mr. Sawyer Halverson Puckett on January 29th 2017. He was 8lbs 2oz and 22 inches long. He was delivered a week early due to kidney stones via c-section. Braxton is being a great big brother and he is growing and changing every day. We are so in love and can't wait for everyone to meet him this summer!