Howdy from the Covered Wagon!
We are halfway through the summer season, and it keeps getting better! We have enjoyed being reunited with our return guests and getting to meet all of our lovely new families. Our guests have been enjoying plenty of sunshine and beautiful views! It has been quite warm lately, so we take advantage of the Taylor Fork Creek and Gallatin River whenever we get a chance. We've made a few float trips down the Gallatin, and our horses always stop to enjoy a nice drink when they get to cross!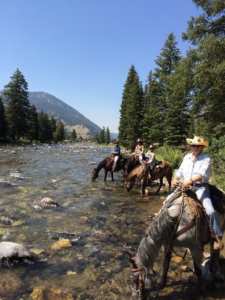 We have already started booking for 2017 and 2018 – some weeks for 2017 have even sold out already! If you're considering coming to the ranch next year, don't wait too long to call us so we can book your spot! You don't want to miss out on the opportunity to see views like this every day!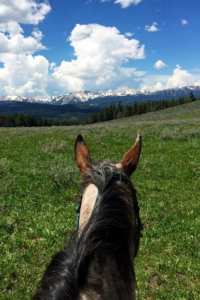 As some of you know, we have had a few horses get hurt over the past few months. We wanted to give you all an update on how our horses are doing! Deuce has been a long-time guest favorite, and he was hurt this past spring. When our horses are out in winter pasture, we go check on them one to two times a week. Will King, who previously owned the Covered Wagon, was checking on our horses this winter and found Deuce. He fell through a bridge up in winter pasture. Will didn't have a trailer with him, so he called Keaton who came and got Deuce and took him to the vet. In the picture below on the left is what his injury looked like three months ago when it happened. Deuce has been on stall rest, having his leg doctored and wrapped, but he is making progress! In the picture below on the right is how his injury looks now. Our long time guest Mary Caudill was at the ranch at the end of June and absolutely adores Deuce. After spending some quality time with Mary, Deuce seemed to really cheer up and started gaining weight back and venturing out for a little bit of exercise every day! He is on the road to recovery and soon will be retiring to a new home in North Dakota with our long time guests Deb and Boyd Addy!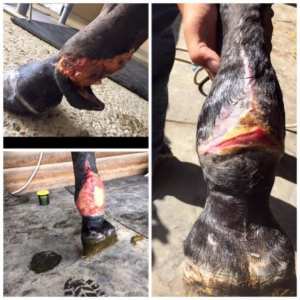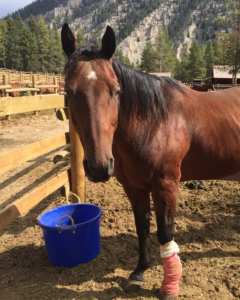 Nikita got hurt last September coming out of hunting camp. Kurt raised Nikita, and we have her mama, Ojos, at the ranch too! Casey Gruber from the Red Lodge Veterinary Clinic has been helping Nikita with her road to recovery. Casey said the injury Nikita has is quite severe and multiple bone, joint, and soft-tissue structures were compromised in her right front foot. The damage she has cannot be fixed or reversed, but our main goal from the start has been to find a comfort zone within the foot that providers Nikita the most pain relief and allow time for the body to stabilize the area with the goal and hope that eventually, Nikita may be able to support her own weight on the foot without the need of a brace and have a good quality of life. Recently, Nikita's foot has reduced in size and her heel has contracted. She has developed some arthritis in the coffin joint and has a large amount of soft-tissue damage as well. We are working with our local vet now, who has also worked with Casey, to find the best solution that will stabilize Nikita's foot and give her the most comfort. We are coming up on a year since Nikita was injured, and she has been such a trooper! Nikita is such a gentle mare, and everyone who meets her can't help but fall in love with her!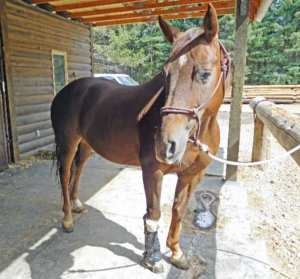 Cheyenne has also been a long-time guest favorite of ours. A few weeks ago she cut her eye, and she had surgery to repair the eye. The surgery was successful, and Cheyenne was on the mend, but then she ended up getting an abscess in that same eye. Our vet tried everything they could to save Cheyenne's eye, unfortunately we ended up having to remove her eye. This does not affect Cheyenne's quality of life one bit! She came home and stayed in a stall for a week, adjusting to life with one eye. She is now out in a corral with her buddy Zorro getting used to her new field of vision! Cheyenne is such a sweet mare, and we are so happy to have her back home!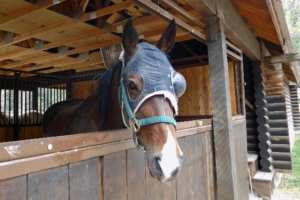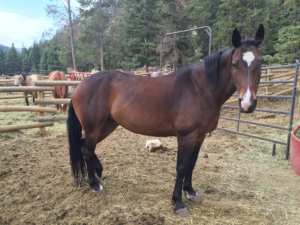 Our hurt horses are on the mend, the rest of our herd is fat and happy, and we are loving every minute of this summer! Summer will soon start turning to fall, and we are looking forward to the changing colors! Our September guests will be here before we know it! Hope everyone's summer has been as fabulous as ours!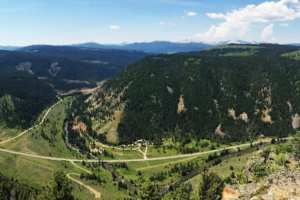 Happy Trails
~Samantha