When beginning the search for a guest ranch, most places you will encounter have a tagline about family. Here at Covered Wagon, it is not just a phrase. We are a small, family operated ranch centered around creating a personal, one of a kind experience for all of our guests. And yes, when you are here, you are family.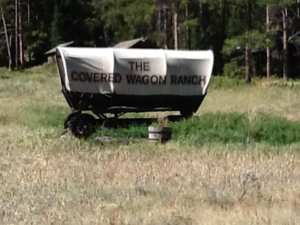 First and foremost, we have our wonderful crew. For the 2015 season, our return guests will be seeing some familiar faces as well as meeting new people. But whatever the case, our crew is a huge part of what makes Covered Wagon so special. Our ranch can hold 24 guests a week maximum, and we normally have a crew of around 14 to handle everything from the horses to your cabins to reservations and meals. Our crew is always friendly and very hard-working, and we all love what we do and where we live. You can always find us hanging out around the ranch, willing to take time out of our schedules to talk with everyone – because that is why we love what we do! Our ranch is not at all a guest ranch that discourages crew from mingling with guests – we will do everything with you guys, and hopefully find some wonderful new friends every year. We love meeting people from all over the country and world, getting different perspectives, and sharing our lives and our backyard with all of our guests. Whether it is at the Friday night cookout, or just after dinner hanging around the campfire, our Covered Wagon crew will treat everyone like family because we are one too.
Our size and personalized operation also allows the Covered Wagon guests to form their own vacation families. We are fortunate to have people return here year after year – some of our guests have been coming to the ranch for more than 30 years now! People come back with their children, grandchildren, friends, nieces, nephews, and everyone in between to keep our guest family growing. We have hosted reunions, big groups of friends who love the West, and sometimes just a father and son who love fishing the Gallatin, but when everyone gets here their family and friends always seem to grow. We constantly have people getting together who only met earlier that week, trying to book for next year with the same group of people because they enjoyed their time together so much! Whether you are here by yourself or with a large group, by the end of your stay I guarantee you will leave with some new friends, be it crew, other guests, or both. Everyone eats, rides, plays, and hangs out by the campfire together, and each week it is wonderful to see different people meeting and making a real bond, or old friends running into one another again.
We also are just such a small operation that we allow everyone to pick and choose what they enjoy, and do it with whomever they want. If you want to go on rides with just your family, we will try our best to make that happen. If you have new friends you want to explore with, we love that too! Hiking buddies, people to go explore Big Sky with, friends to raft with, or just acquaintances to hold your hand before zip-lining make a huge difference. People who talk to us about booking always want to know every detail about our ranch that makes it special, but at the end of the day, Kurt, Melissa, and myself always come back to the same thing: there is just something about this place. Covered Wagon has a magic all its own that just seems to keep people coming back here. Personally, I think the scenery, horses, and laid-back western feeling all play a part, but it is the fact that this ranch is always a family that really makes it work. At the end of the day, everyone will always feel welcome here, and whenever you come back, it will always feel like coming home.