It is with great sadness that I must report we lost a long time friend and worker for us last week. Odessa, our personal pack mule and then a Covered Wagon Ranch mule, passed away from old age last week. She did not suffer and she was able to cross over up on Raspberry Butte, munching her last bit of fresh green grass enjoying the beautiful countryside.
She was a great mule. Back in the late 1990's, while I still owned and operated my home infusion business in Montana, I would run across a lot of hardship cases of people who became ill and required my services at home but had no health insurance. Such was the case of an old, retired hunting outfitter who didn't have insurance nor the money to pay for his prescriptions. After some conversation, I learned he still had his mule string from his outfitting days. He asked if I would be willing to accept one of his mules as payment for our services. Well, I knew darn well that this wouldn't cover the cost of his home I.V. treatments, but I said I would do that. I knew that J.T. loves to use mules for his pack animals as opposed to a horse, and we only had the one 14 hand small mule named "Shorty". Always wanting to please my beloved partner, I told this man that I would take Odessa home in exchange for payment in full. So back to Bozeman we went.
When J.T. saw her, his jaw dropped. She wasn't exactly the tall, dark mule he was looking for. She was short, sorrel in color, and her belly was so large it made a burn barrel look like a soda can. In fact, her description was the "short, squatty mule". How was she ever going to pack his gear and be able to walk down a trail? What did I know? To quote a common phrase I use: "Hey, I'm just girl from Joi-see".
The first time he took her hunting with him was a real treat. J.T. was very proud of the fact that he just shot a beautiful six point bull elk (in fact, it's the mount that's hanging in the lodge to this day) and he needed to pack out the horns back to the trailhead. Well, she didn't want any part of this. No matter how hard he tried, he could not mount those horns on her back. He stepped back. Thought a minute. Then remembered he heard somewhere that maybe he could blindfold her and she would take the cargo. So he took one of his camo t-shirts (quite frankly, I think the smell of this piece of clothing was far worse than any elk carcass) and blindfolded her. Voila!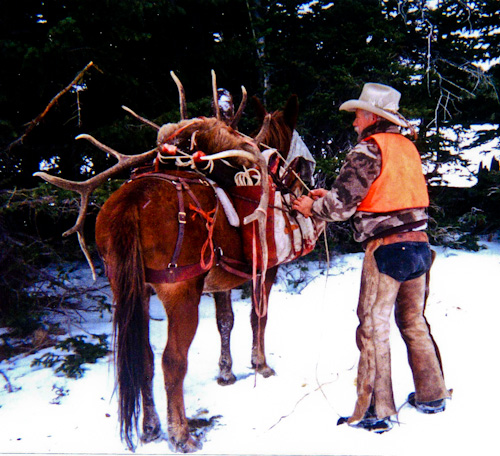 Not only was her belly bigger than a barrel, but she loved to talk as she carried her load down the trail. She knew the exact size of her cargo on either side and could maneuver herself through trees and brush, no matter where she went. She was amazing.
Odessa served us well, and continued to do so once she started her job at the Covered Wagon Ranch. Many a pack trip took her up into camp.
She had a great life and was well cared for. She will be sorely missed.
In honor of Odessa, as with all our outstanding herd when they cross to the other side, "this one's for you Odessa"
"Ode To Max" (a poem found in the Big Timber Pioneer one day)
"It was the best two hundred dollars I ever spent, Brett said-
On the day we found out that at the trail head Max lay dead.
This two hundred dollar horse had definitely earned his keep
We all prayed to God that he passed on while in blissful sleep.
No purebred Quarter Horse, thoroughbred, nor paint was he
He was of mixed blood with no fancy papers nor pedigree.
He had never dragged a calf to a branding fire nor ran on a track.
But many a precious load he had hauled into the wild and back.
He was honest and kind and never even shied that I ever saw.
The greenest rider or the smallest child would be Max's draw.
He hauled guests for a living up and down the wilderness trail.
He never moved a muscle when a client fainted over his tail.
He endured being bridled and cinched by well-intentioned rookies
Who offered him a reward of carrots, apples, and Oreo cookies.
Hauling overweight off balanced clients could drive a horse insane.
But even if Max could have spoken, he would never complain.
He hauled dudes and dudettes of every shape and size.
And they all fell in love with his thick mane and brown eyes.
He crossed many hills, mountains, and streams.
Helped fulfill lots of hunter's elk shooting dreams.
It's hard to find a horse as honest as Max.
All the rider did was sit up there and relax.
So here's to Max and the great dude horses who have gone before…
The trusty steeds who went to pasture but live in our hearts evermore."
Thank you Odessa,
debi