TOP TEN MONTANA DUDE HORSES FOR THE YEAR 2010
The Covered Wagon Ranch is pleased to announce our Top Ten Dude Horses for this past season.  We are really proud of our entire herd, and each horse contributes in some way to the overall success of our operation; but these are the stars of the show.  The Top Ten are as follows:
10.    COLONEL – Colonel is a big, black gelding who handles many of our larger riders with confidence and ease.  This year he provided 38 guest rides, and two wrangler rides for a total of 40 out of the possible 96 riding days.
9.    BUSTER –  Buster is a smaller, sorrel gelding with a fair amount of age on him.       
       Very gently and friendly, he is pretty darn solid in the mountains, even with his very  
       crooked from leg.  Riders who can keep him from enjoying the green grass (at his
       convenience) really like his stable personality.  He had 39 guest rides, 1 wrangler
       ride, and 2 crew rides for a total of 42.
8.    EMERSON – Emerson is our Tennessee Walker who is very comfortable for our 
       guests riding pleasure.  He is noted for his high socks on each leg.  He came to
       us about 4 years ago from Kentucky, and has taken to mountain life quite well.
       We have never worried about Emerson missing a meal, he seems to always maintain
       a rather rotund figure.  Emerson provided 40 guest rides and 3 wrangler rides for a
       total of 43.
7.    TRIGGER – Trigger is a good sized, and handsome palomino gelding.  A favorite of
       many guests, he has always been a very dependable mountain horse with a very
       steady mind.  He and his good buddy Chisum are always reluctant to go to pasture
       on Saturdays, and are often seen being pursued (and probably cursed) by a couple
       of wranglers way behind the rest of the herd.  He gave 43 guest rides and 3 wrangler
       rides.
6.    RENO – Reno is a handsome sorrel ranch raised gelding.  He came to us from
       Georgia, and has become a really nice mountain horse.  A couple of years ago he
       quickly became a wrangler favorite, and the past two years has performed quite
       well as a guest horse.  Reno provided 44 guest rides and 2 wrangler rides for a
       total of 46.
5.    PROXIMO – Proximo is a very tall (well over 16 hands) palomino appaloosa
       gelding.  He had suffered a very serious leg wound two years ago, and was used
       sparingly in 2009.  This year one of our wranglers took him under his wing, and
       used him for leading guest rides as well as wrangling horses to and from pasture.
       He provided 48 wrangler rides out of 96 possible.
4.    SIXGUN –  Sixgun is a beautiful blood red bay gelding with a "zorro" star on his
       forehead.  A perennial favorite of the ranch, he has always performed at a high level
       for our guests.  He provided 49 guest rides, and one wrangler ride for a total of 50.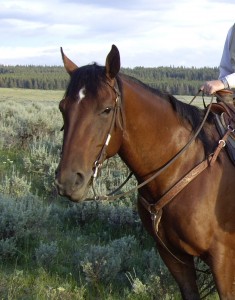 3.    TUGBOAT – Tug is probably one of the best "kids" horses on the ranch.  He is a
       tall (upper 15 hands) and handsome bay gelding.  Tug has a great mind, a very
       kind eye, and is truly a gentle giant.  He has been a Dude horse all of his life, and
       does his job extremely well.  Tug gave 49 guest rides, 1 wrangler ride, and a crew
       ride for a total of 51.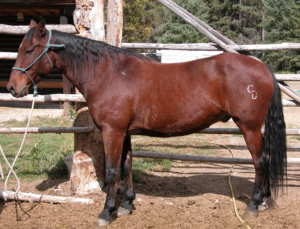 2.    PRIZM – Prizm is a tri-colored paint of medium size who had an exceptional year
       for the ranch.  He has always been unnoticed in the past, and seems to just do his
       job without fanfare.  He finally got recognized for the solid horse that he is, and
       quickly became a favorite of all of those who had the opportunity to ride him. 
       He provided 44 guest rides, 7 wrangler rides, and 1 crew ride for a total of 52.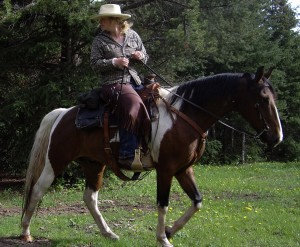 And finally, drum roll please…………. The number 1 horse at the Covered Wagon Ranch, for the third straight year is…………
       DEUCE – Deuce is a very special horse on the ranch, and very quietly, confidently,
       and reliably performs his job at the highest level.  He is a ranch raised gelding who, 
       before coming to the ranch, had performed as a roping horse on a working cattle
       ranch.  Since coming to us, he has shown a great mind in the mountains, and can
       still "get after it" if called upon to do so.  He is an extraordinary Dude Horse, and we 
       are really proud of the excellent service that he provides our guests each summer.                                  
       Deuce provided 59 guest rides and 1 Wrangler ride for a total of 60 rides out of the 
       possible 96 days.
Congratulations to these great Montana Dude Horses for being the best of the best.  If you have the pleasure to join us at the ranch, tip your hat to the hardest working employees at the ranch, for they are the true essence of the Dude Ranch experience.