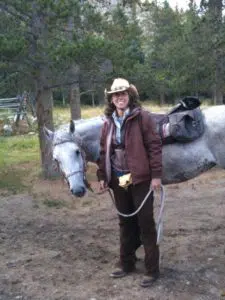 It was love at first sight. When Cordy visited us from Switzerland this year (and Erna too!!) we were really excited to have visitors from this country, although they will tell you I kept saying they were from Sweden. At least both countries started with "Sw…"! They took full advantage of all the ranch had to offer, including a Backcountry Pack Trip right from our Montana Dude Ranch, and tons of horseback riding. It was a perfect Montana Dude Ranch Vacation including trips into Yellowstone National Park.
Cordy did not ride Annie (the mare, not the mule) for most of her stay. Towards the end she wanted to try a horse that was better suited for a more advanced rider. She (Cordy) is quite a cowgirl. She even has her own Western Store in Switzerland called "Western Store" (www.westernstore.ch). So the last few days of her trip she decided to ride Annie and just loved her. And Annie loved her as well!
Cordy heads back home. The ranch finished out its season. Then next thing you know I get an email from Cordy that she wants to buy Annie and send her back to Switzerland! I have never done anything like this before and basically didn't think it was possible. I (unintentionally) put just about every obstacle I could think of in front of Cordy, but she is quite a goal oriented, determined woman. Much like Annie! She worked on all the details that were necessary to have her transported overseas. This was quite an exciting process for me to observe (I have to say observe and not participate. She did all the incredible legwork).
The time was drawing near. Her first attempt failed because Switzerland has a quota on how many horses they can ship into the country during the period of a year. They were full for 2010, so she had to wait until 2011. Then there's the quarantine period, health checks, vaccinations, transporters, etc. that have to be arranged. But she charged forward and pulled this all together.
Once I could see this was really going to happen, we had Boone haul Annie back to Bozeman to go through her health checks and vaccinations.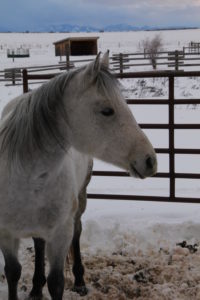 She was pretty furry this time of year, as Montana has had some pretty cold weather for extended periods of time. The next difficult step was coordinating all her health requirements and getting the vet out here. Sometimes he's just pretty busy and hard to find. You never know where he is!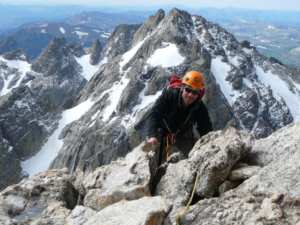 It was all coming together pretty quickly now. Brand inspections, health certificates, vaccinations, etc were all being put together (might I add that JT was in Eastern Montana goose hunting during this time period??) (did I also mention that it was sooo close to Christmas??).
So here is what Cordy had put together. First, there was a hauler from Twin Bridges, Montana that picked Annie up at my house. He actually had another horse in his trailer (an Arabian) that was going to Kuwait! He was driving them both to Utah.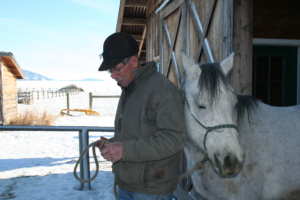 From there, they were hauled to Oklahoma, to this amazing company called Nedpoint Quarter Horses (www.nedpoint.com). Here they quarantine the horses for thirty days, then transport them, via plane, to Amsterdam. From that point they are hauled to where-ever else they go. Nedpoint was really fun to work with. Watch their video!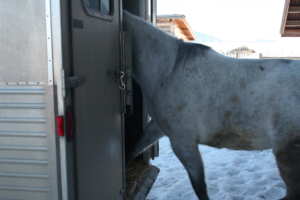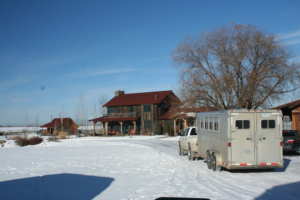 So Annie was loaded up on the trailer and headed to Utah. Some pretty significant snow storms delayed the trip to Oklahoma, but in a few days she was on her way again. She is now stalled at Nedpoint, waiting for her trip to Amsterdam on January 21! Good luck Annie! What an adventure. And thank you, Cordy, for taking such good care of her. It's a rare occasion that a Covered Wagon Ranch horse gets sold. But when you know it's the best thing for both parties, you can't stand in their way. I'll keep you posted when we hear she made it safe and sound to Switzerland!