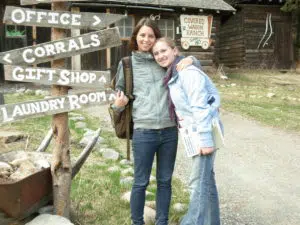 Welcome to our Country!! Meet Anya and Zoriana, both joining us this summer as house staff. Their home country is the Ukraine and we're very excited to have them become part of our Covered Wagon Family this year. It was a long journey to get here, traveling at least a good 24 hours. Only to find that they had a seven hour layover in Minneapolis! They finally arrived after midnight on Friday evening.
After a night's stay at the Wingate in Bozeman (thanks Brandon!) I picked them up and drove them to the ranch in a snowstorm!! They were quite impressed. I promised them there were actually mountains all around us, even thought we couldn't see them. They said the temperature was somewhere around 90 degrees in their country!
Anya (on the left), 22, has a degree in Art and is going to school for architecture. I'm sure J.T. will fill her in with all the joys of being an architect! And Zoriana (on the right), 19, is studying Economics. And I'll be more than happy to share the joys of owning a business. They are part of an International Work Study Program and their English is quite good. Much better than my Ukranian, I must admit. I had to Google it to find out where it was. Geography is not one of my stronger suits!
During the ride to the ranch, I got to learn quite a bit about these two. They are lovely. This is the first time Anya has been to the States, and her dream is to draw horses and eventually get to Chicago and listen to some great jazz. Zoriana (which means "Star" in her language) actually worked in North Carolina last year in an ice cream shoppe. She calls herself the "ice queen"!! However, I asked her why she didn't return there this year and she informed me that her boss died of a heart attack while she was there. I immediately told her I would not be her boss this year and turfed that responsibility on to somebody else at the ranch-and it wasn't J.T.!!
During their tour of the ranch we stopped at the corrals and they got to pet the horses for the first time in their life. They were thrilled and a little intimidated. Rumor has it that Boone and Lee are taking them for their first horseback ride and lesson today! Zoriana also told me that she's afraid of dogs. Now really, how could you be afraid of Doc??? We're going to have to de-sensitive her while she is here.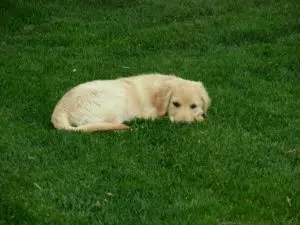 We made our way back to the lodge and got them settled in to their crew quarters. It didn't take long for them to get settled in to the American Cowgirl way of life. They are ready to start work! You will definitely enjoy meeting them this summer and we all look forward to learning more about where they live! Please welcome our two "Wild And Crazy Cowgirls"!!