Horse of the Year 2009
 The Covered Wagon Ranch is proud to announce that we had two horses tie for Horse of the Year in 2009, Joseph and Deuce.  These two stars of the Montana Dude Ranch industry both provided excellent and flawless service on 47 days of the possible 95 work days of their season.  Please come and visit the Covered Wagon Ranch this summer, and when you do, tip your hat to these great Montana dude horses.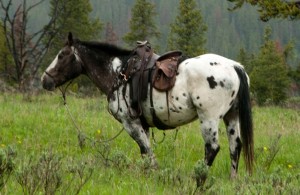 JOSEPH
Joseph is the patriarch of the Covered Wagon Ranch.  A true gentleman of 25 years, he has lived on the ranch (according to our records) for over 20 years.  His specialty is the younger, less experienced rider; but this year (because of his good size and wonderful temperament) he helped several adult riders enjoy their stay as well.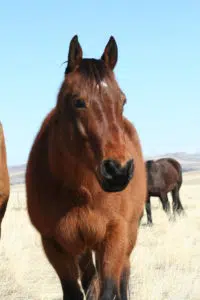 DEUCE
Deuce has been a favorite on the ranch since JT and Debi purchased him 3 years ago as a ranch trained gelding.  Currently 13 years young,  he gave many of our intermediate (and higher) level riders a great experience through the course of the summer.  His gentle and steady personality leads us to take him for granted sometimes, but this is the second year in a row in which he has been the star of our herd at the end of the season.
Please give a round of applause for these very hard working employees and trusted steed!